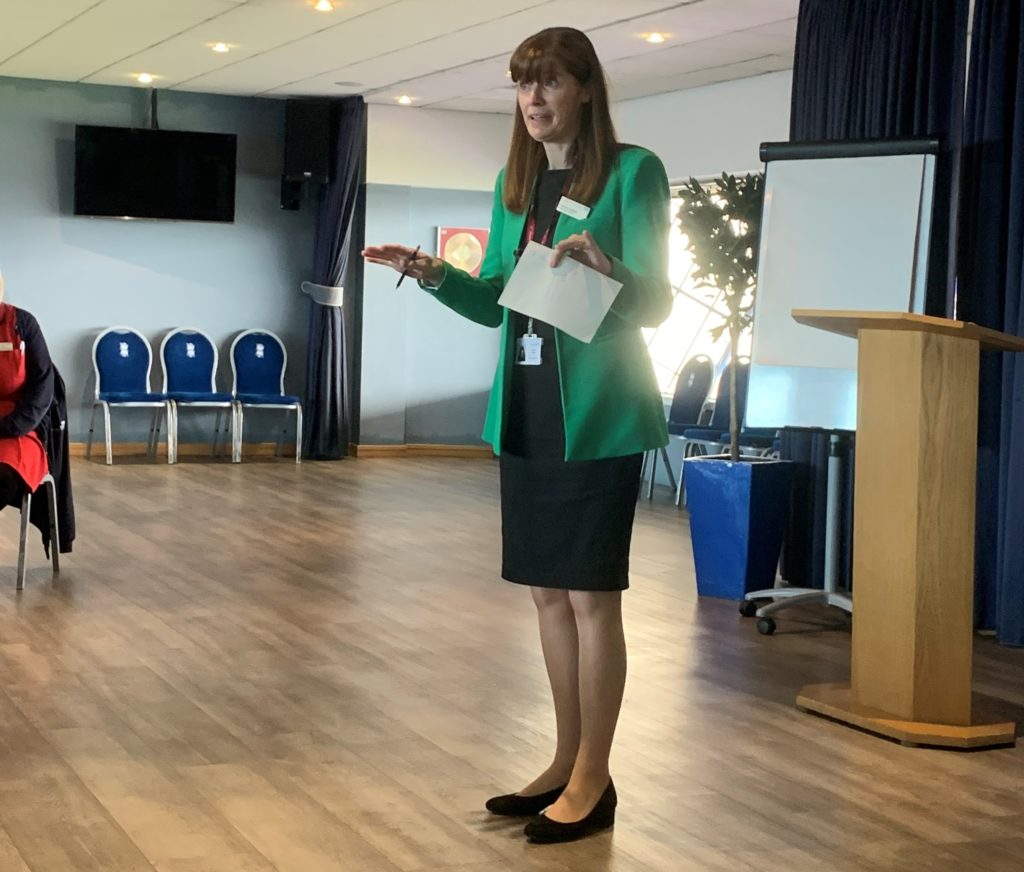 Staff from the five main healthcare providers in Birmingham and Solihull gathered recently to share learnings and address the recruitment challenges currently facing the healthcare support workforce in the region.
The Healthcare Support Worker (HCSW) workshop, which was held at Birmingham City Football Club's St Andrew's Stadium, saw representatives come together from HR, Recruitment, Education and Nursing for each of the five NHS trusts within the Birmingham and Solihull Integrated Care System (ICS): University Hospitals Birmingham NHS Foundation Trust (UHB), Birmingham Women's and Children's NHS Foundation Trust (BWC), Birmingham Community Healthcare NHS Foundation Trust (BCHC), The Royal Orthopaedic Hospital NHS Foundation Trust (ROH) and Birmingham and Solihull Mental Health NHS Foundation Trust (BSMHFT).
Colleagues from NHS England and Improvement and employment website Indeed also attended.
Lorraine Galligan, Deputy Chief Nurse at BCHC (pictured above), opened the day by addressing the significant challenges being faced across the ICS with regards to recruiting and retaining healthcare support workers. Louise Banks, BSol ICS Workforce Director, added: "We need to get this right, we have no excuses not to, the right people are out there and we must concentrate on working as a system to recruit them into this vital workforce."
The group were joined by Ade Tams and Sharon Ward from NHS England and Improvement, who provide dedicated regional support and funding, some of which has already been utilised in the system. They outlined plans for volume recruitment events and stressed the importance of removing 'NHS-isms' from job adverts.
UHB's Deputy Director of Nursing Workforce Carolyn Pitt addressed her trust's challenges but also outlined some fantastic achievements, one being their Nursing Associate programme – the largest in England! It was also great to hear the trust offers so many accessible routes into HCSW roles.
Deputy Chief Nurse Nikki Brockie and HR and Recruitment Officer Mel Bailey from ROH highlighted their achievements, including a nurse bank that Nikki said has "saved the day" in recent months, due to a rise in Covid-related absences. The pair also described some exciting new roles at the trust; a Resourcing Team Leader and a dedicated HCSW Recruitment Nurse.
Julie Ravenhall, Divisional Director of Nursing and Therapies for Adults and Specialist Rehabilitation at BCHC, showcased the trust's 'New Opportunities' programme, a 12-week training programme for those with no prior care experience wanting to work for the NHS. Trainees are guaranteed a Band 2 role after the training, as well as a fast-track to the trust's nurse bank and support in the form of a 'buddy system'. 55 trainee HCSWs have completed the course so far.
The biggest slot of the day went to Karen Jameson and Jon Perry from the 'I Can' programme, which aims to demystify the recruitment process for trusts within the ICS and get people from disadvantaged areas into entry-level roles. There was lot of interest and questions from those in the room. Lorraine said: "I don't think there is a person in this room who doesn't think this is a fantastic programme." Nikki added but recognised there was also "a need for a blended approach to recruitment in our region."
Other presentations came from Hayley Brown, Senior People Partner – Strategy, Resourcing, Analytics and Transformation at BSMHFT, who described the very specific recruitment challenges a specialist mental health trust faces but also showed an uplifting video featuring staff on their own unique nursing journeys, from trainee nursing associates (TNA) to those at degree-level.
Nav Kiran Sharma, Aspire Lead for the Education & Learning Department and Lawrence Kelly, People Partnerships & Programmes Manager, from BWC, heaped praise on the 'I Can' programme calling it "beautiful as a design" and described recent meetings with senior leaders who have shown interest in taking part. Nav is working with those who have come from overseas and have recognised qualifications in their home countries to work out how they are transferable here in Birmingham and Solihull. She said a HCSW career is never "just" or a "stepping stone".
One thing that shone throughout the day was the willingness and eagerness of colleagues from across the ICS to work together to work towards a common goal – recruiting a fantastic and well-supported HCSW workforce for Birmingham and Solihull